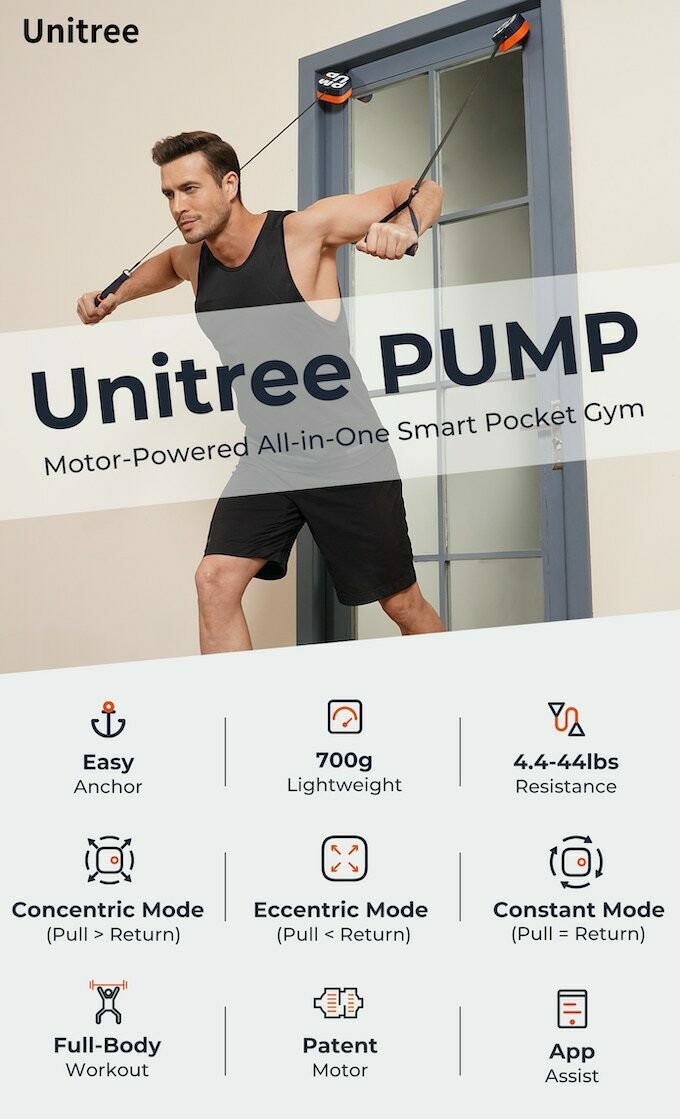 ★ Portable and Lightweight 
The travel-ready Unitree PUMP solves all that by bringing powerful workouts to anywhere. PUMP helps you skip the excuses, and get better pumps from your home, hotel, office or friend's house.
Light, compact, and ready to travel, PUMP is the workout system you can take on the go. At only 700g and 10cm wide, it weighs less than a 2L bottle of water and slips in your backpack, suitcase, or overnight bag, taking up less space than a pair of shoes. That gives you quick access to powerful workouts even on the road.w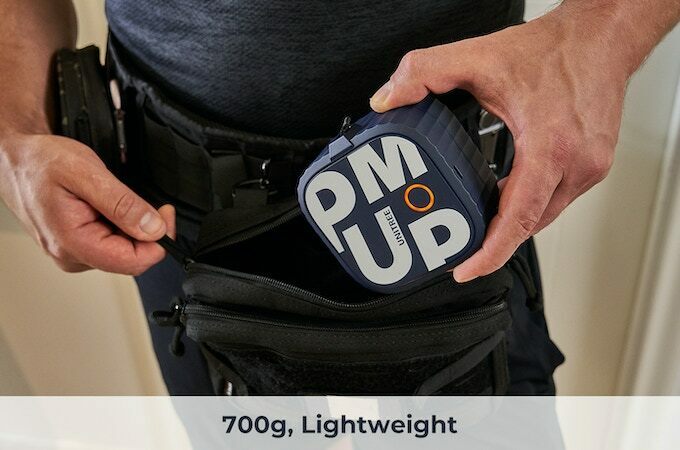 Workouts can happen any time, anywhere with the PUMP — your home, hotel, office or even a friend's house. PUMP easily anchors to anything solid, like a door in your hotel or a sofa in your living room — even your own foot — without using risky elastics that give you an awkward pump.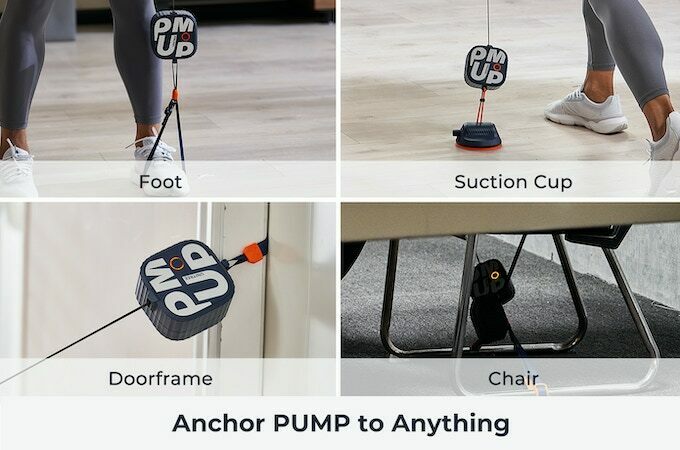 ★ Personalized Workouts
Every workout is different, and every muscle has different needs. Find the perfect resistance for any exercise and adjust it with a few taps on the app. PUMP lets you pinpoint the perfect resistance from 4.4 - 44lbs, or more if you combine PUMPs.a
★ Powerful Functions 
The amazing thing about PUMP is that it lets you choose between eccentric and concentric resistance. That means you get the option to feel more burn on the way up, on the way down, or both equally. PUMP provides you with 4 training modes: Concentric mode, Eccentric mode, Constant mode, and Chain mode.
In PUMP's concentric mode, you can customize resistance from 11 - 44lbs (5-20kg) and a ratio from 0-50%. That means if you set the resistance at 20lbs and the ratio at 20%, the resistance when pulling the rope will be 20lbs, while the resistance of the rope rolling back will be 16lbs.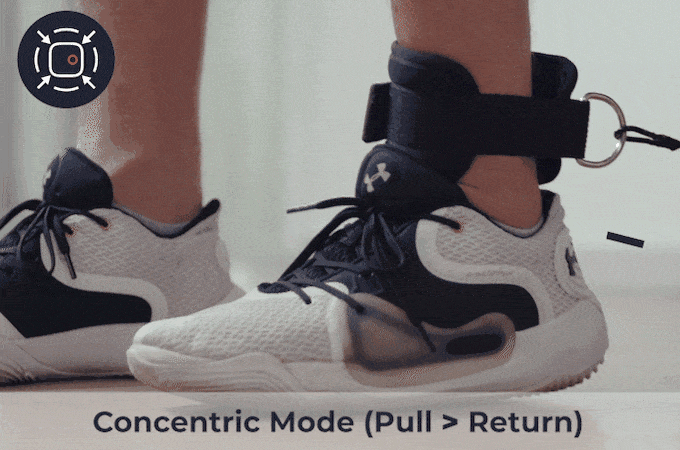 Eccentric mode works the opposite way — it gives you more burn when you're releasing the weight, giving your muscles more time under pressure. And with custom ratios, PUMP's eccentric mode lets you choose how the weight is spread out from lift to release. Set the weight to 20lbs and the ratio to 50%, and you'll experience 10lbs of resistance on your lift, but 20lbs on the release. That gives you more ways than ever to shock your muscles and customize every workout to make the greatest gains in the shortest time.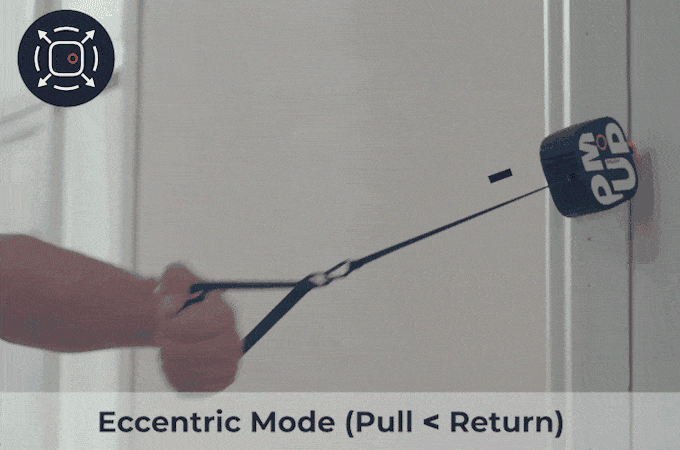 When you train in constant mode, you can adjust the resistance range from 4.4 - 44lbs (2-20kg) to get even resistance through the whole movement. The resistance will be the same whether you're pulling the rope out, or releasing it back in.see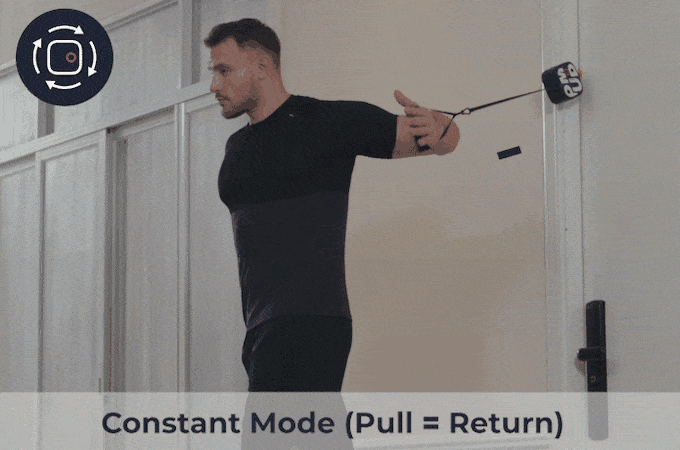 In chains mode, you can still choose resistance from 4.4 - 44lbs (2-20kg), but it allows you to schedule resistance and let PUMP adjust resistance automatically while you train.

★ Safe and Durable
Designed with safety in mind, PUMP pulls the rope at a steady slow pace even if you let go, so you can avoid rope burn and hand injuries. Meanwhile, the patented motor is designed to prolong PUMP's lifespan and put out precise resistance for the entire time you own it.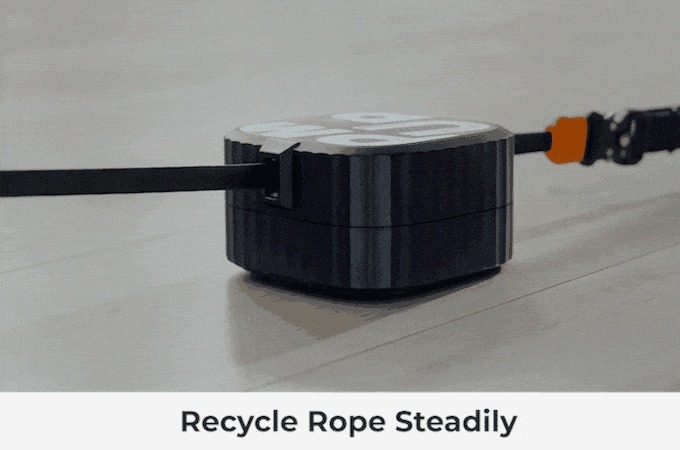 ★ One PUMP for ALL
Rip it, pull it, lift it, stretch it. PUMP opens a massive range of exercises in one mighty, tiny package.
PUMP is built to integrate all your gym equipment into one kit. It's truly made to train your whole body, covering 90% of muscle groups with adjustable resistance. With 44lbs (20kg) of resistance, even one PUMP meets the daily resistance requirements for most of fitness lovers.
We believe PUMP can be anyone's best fitness tool outside the gym. It's truly built to revolutionize the way you train, fitting more workouts into your routine from anywhere. 
★ Bigger weights, better accessories
PUMP wasn't just made for light sessions and cardio. You can combine up to 8 PUMPs in one to get 352lbs (160kg) of massive resistance. With every additional unit, you add a full 20kg of potential resistance, letting you truly imitate the heaviest full-body gym movements.
And the app coordinates each PUMP unit together for true synergy and the smooth, steady resistance your muscles crave. Squat, bench, and deadlift with serious weight. Because more PUMPS are better than one.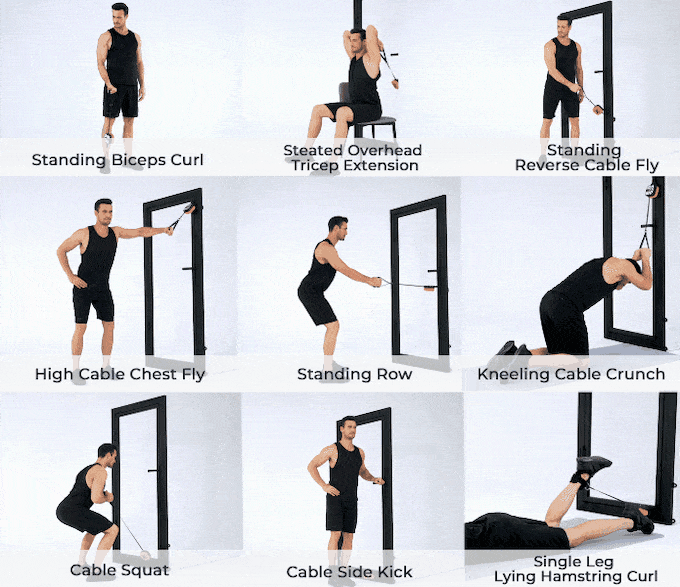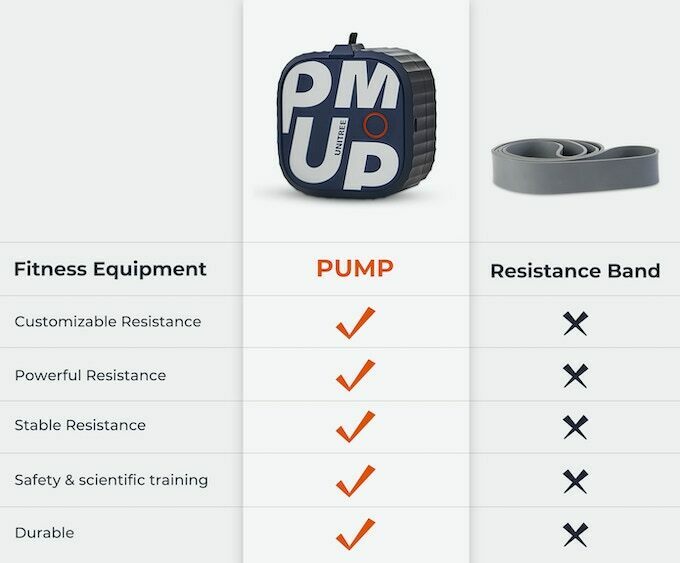 ★ All on the APP
PUMP features over 100+ videos and courses showing you exactly how to get through every movement perfectly. The PUMP fitness app will also track your progress and recommend training tutorials based on your training, helping you to level up and find your weak spots. With new courses being added regularly, it's a vast catalogue of programs that cuts the price of a trainer down to size.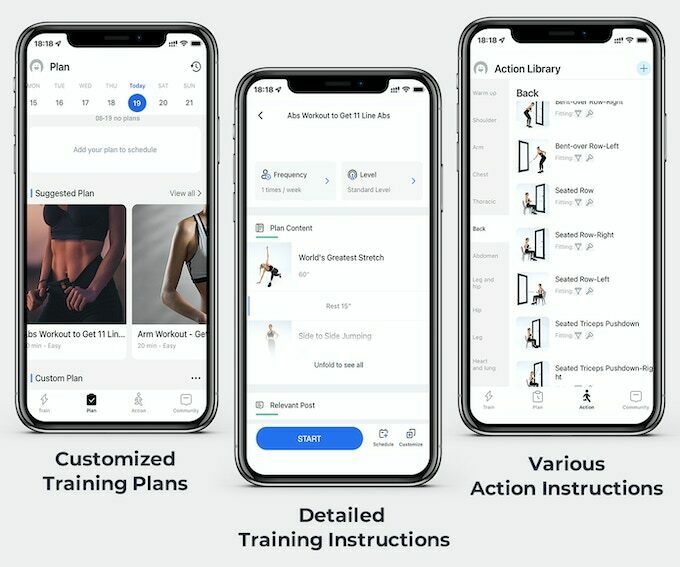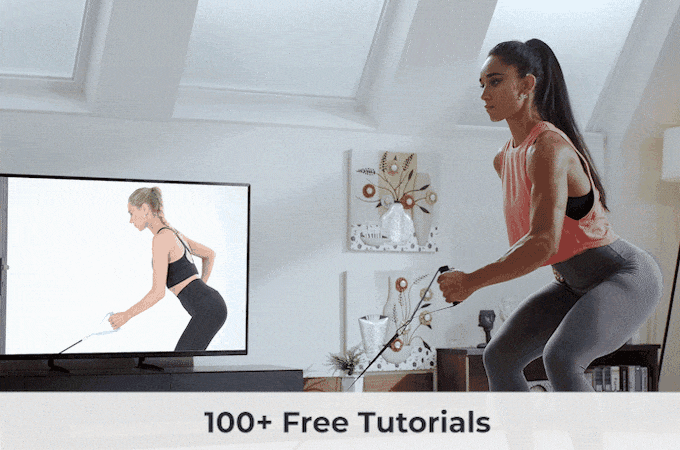 And the app will record your exercise data to show how many reps you've done, your number of sets, calories burned, and more. It's all designed to help you stay motivated and reach your fitness goals by raising the bar at the perfect pace.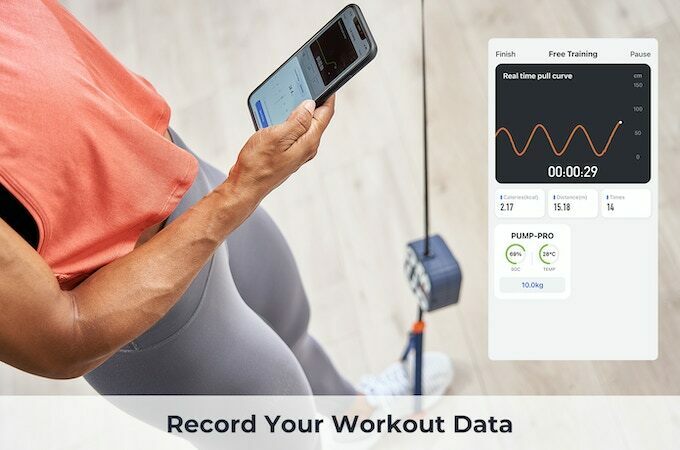 ★ Charges your phone battery
Every move you make during a workout creates energy. PUMP lets you turn that energy into real electricity.
Or use that power to charge your iPhone or Android instead. Simply connect your phone, tap the Power Generation button, and add life to your phone battery.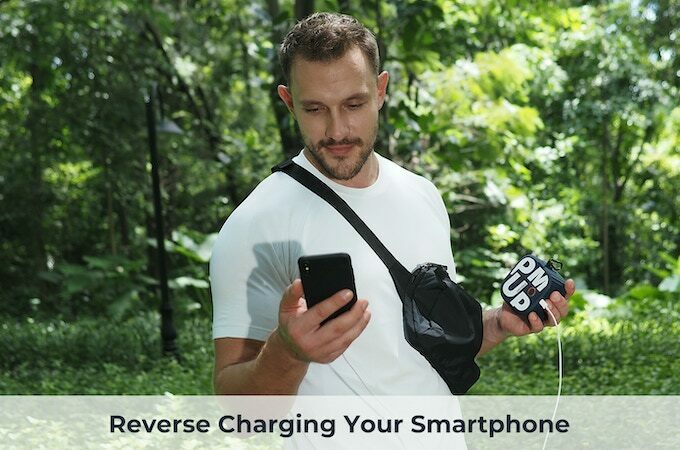 ★ Go 1000 Reps on a Single Charge
A fully charged PUMP will take you through a week worth of full workouts. At 100% battery, the PUMP can last 1,000 reps at 22lbs (10kg) or 500 reps at 44lbs (20kg). That's enough to keep you going all week, with efficient charging to get you back to capacity in no time.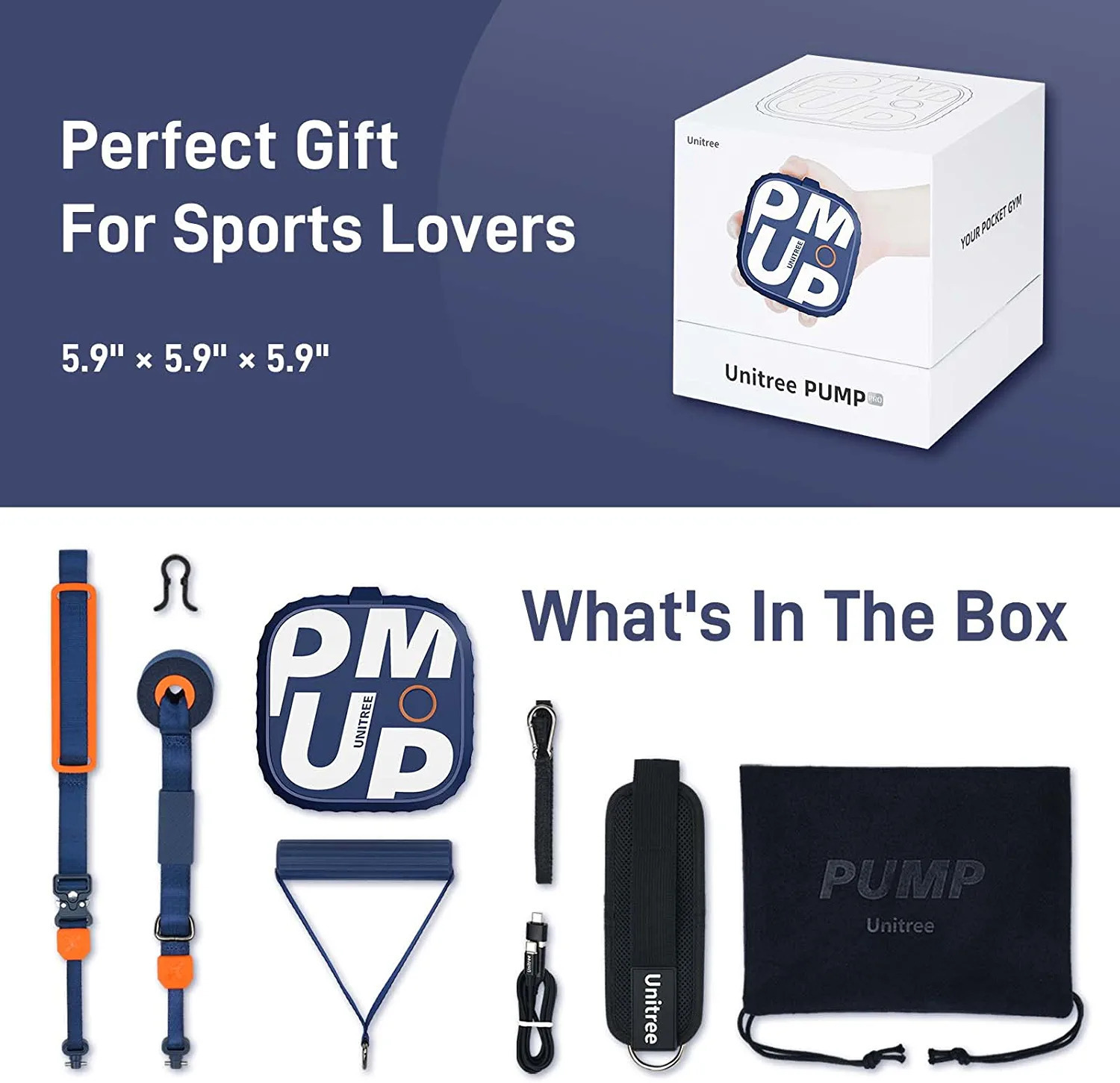 Package included:
Unitree Pump pro x1
Pull Rope Handle x1
Door Anchor Fixing x1
Ankle Fixing Accessories x1
Safety Buckle x1
Power Cable(Type C) x1
Storge pouch x1
Manual x1