GPS smartwatches in two sizes, featuring built-in sports apps, contactless payments, music and all-day health monitoring.
Track It All
When we say broadest available range of all-day healthmonitoring features, we mean it.
Body Battery Energy Monitoring
See your body's energy levels throughout the day, so you canfind the best times for activity and rest.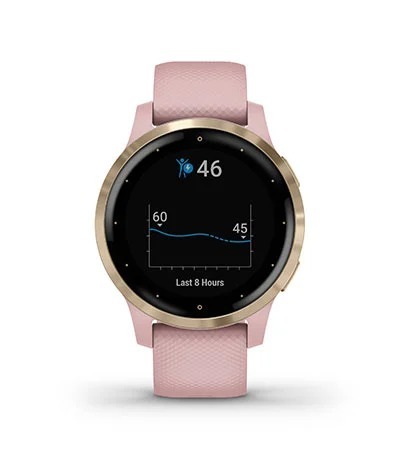 Respiration Tracking
See how you're breathing throughout the day, during sleepand during breathwork and yoga activities. 
Pulse Ox Sensor¹
The Pulse Ox sensor¹ gauges your blood oxygen saturationduring the day and as you sleep to show how well your body is absorbing oxygen.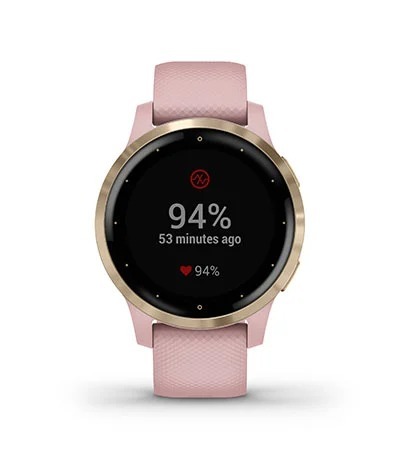 Advanced Sleep Monitoring
Get a full picture of how you're sleeping with a breakdownof your light, deep and REM sleep stages as well as Pulse Ox1 and respirationdata.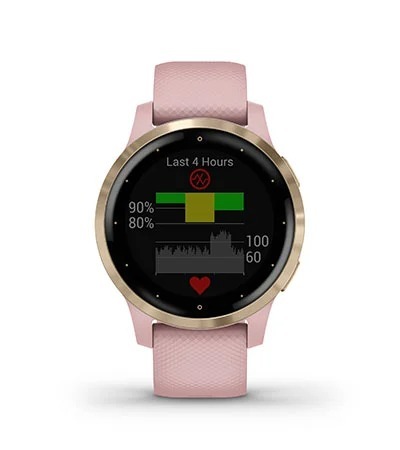 Menstrual Cycle Tracking
The Garmin Connect app lets you track your cycle, logphysical and emotional symptoms and learn about training and nutrition duringeach phase of your cycle. Get cycle tracking information right on your wrist.You'll be able to see period reminders, cycle details and symptoms logged forthe day.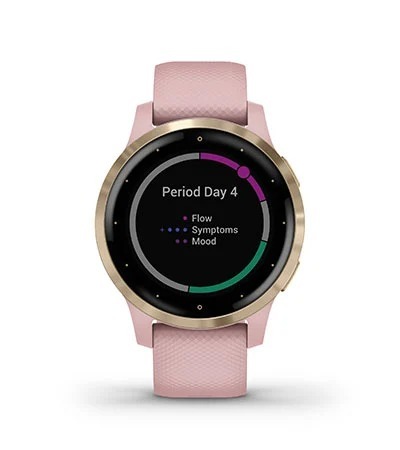 Stress Tracking
See if you're having a calm, balanced or stressful day.Relax reminders will even prompt you to do a short breathing activity.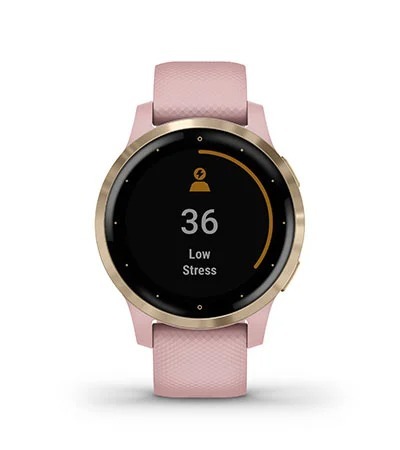 Hydration Tracking
Staying hydrated is important for your well-being. Log yourdaily water intake to help you stay hydrated and see how consistent you are fromday to day.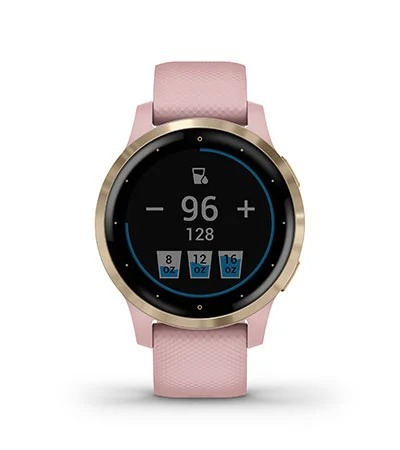 Wrist-based Heart Rate²
The watch constantly samples your heart rate and will alertyou if it stays high while you're at rest. It also helps gauge how hard youwork during activities.

Made for Daily Wear
From interchangeable bands to durable Corning® Gorilla®Glass 3, this smartwatch was made to be worn 24/7. Keep it on when you hit thewater, since it is water-rated to 5 ATM. The always-on, sunlight-readableGarmin Chroma Display technology makes it easy to see in any lighting.

Animated Workouts at Your Wrist
No more hunting down videos or trainers for workoutdemonstrations. This watch features easy-to-follow, animated cardio, strength,yoga and Pilates workouts you can view on the watch screen. Choose frompreloaded animated workouts, or download more from Garmin Connect onlinecommunity.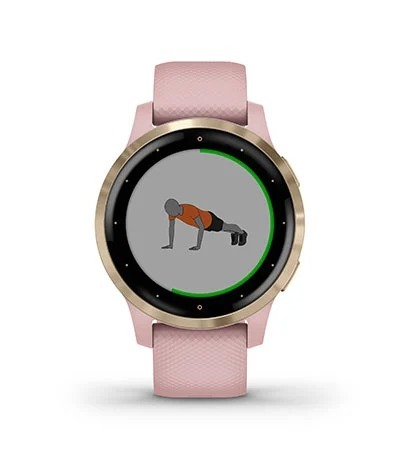 All the Activities You Love
With more than 20 preloaded GPS and indoor sports apps —including walking, running, cycling, pool swimming, golf and more — this watchcan help you track all the ways you move. You can even create custom workoutsin the Garmin Connect app.
Take a Breath
This watch offers a variety of structured breathworkactivities. When you want to relax or focus, you can start a breathingactivity, and this watch will track your stress and respiration to help you geta better understanding of how you're breathing.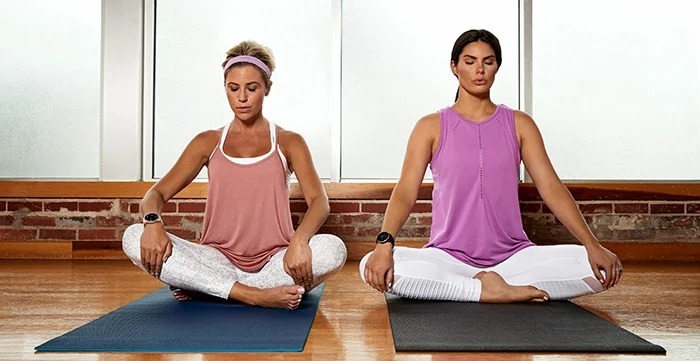 Smart Notifications
Receive emails, texts and alerts right on your watch whenpaired with a compatible smartphone. You can even respond to texts if you havean Android phone.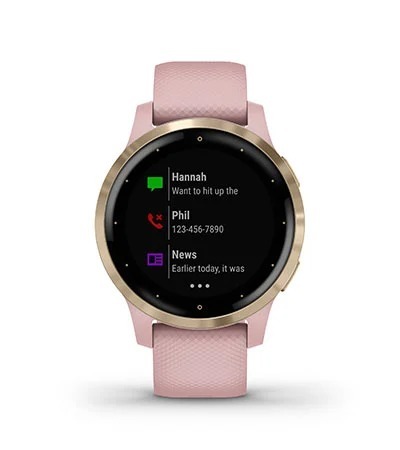 Music
Easily download songs to your watch, including playlistsfrom your Spotify, Deezer or Amazon Music account (subscription may berequired). Connect with wireless headphones (sold separately) for phone-freelistening.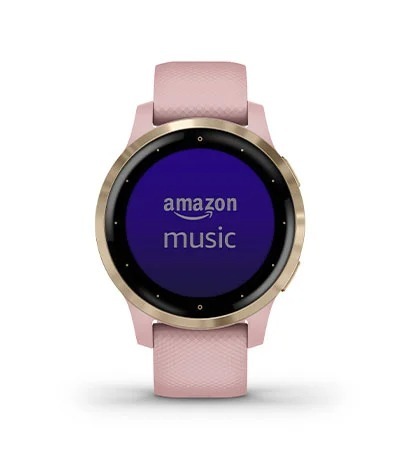 Safety and Tracking Features
While your watch and phone are paired, your location can besent to your contacts either manually or — during outdoor activities —automatically with built-in incident detection3, if needed.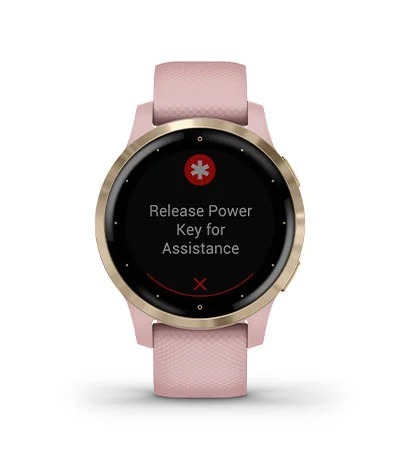 Garmin Pay
Breeze through checkout lines with Garmin Pay contactlesspayment solution4 through participating providers.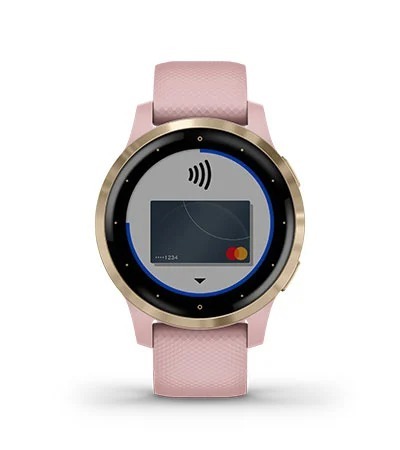 Connect IQ Store
Add personality to your watch by downloading apps, widgets,watch faces and more. It's easy and — even better — it's free.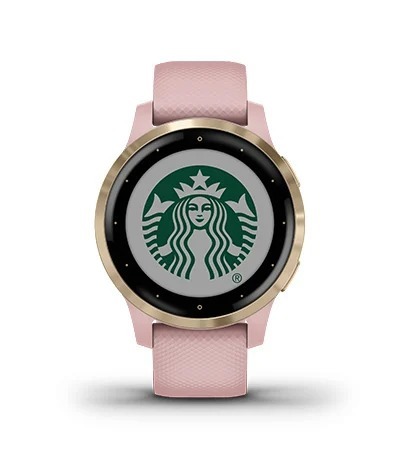 Garmin Coach
Get a personal running coach on your wrist, for free, tohelp you train for your next 5K, 10K or half-marathon.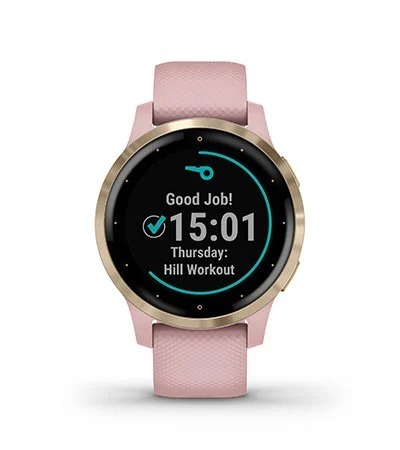 1This is not a medical device and is not intended for use in the diagnosis or monitoring of any medical condition; see Garmin.com.hk/ataccuracy. Pulse Ox not available in all countries.
2Activity tracking accuracy
3When paired with a compatible smartphone. See safety and tracking features requirements and limitations
4View current supported country, payment network and issuing bank information
Android is a trademark of Google LLC. SPOTIFY and the Spotify logo are among the registered trademarks of Spotify AB. Amazon Music and all related logos are trademarks of Amazon.com, Inc. or its affiliates.
VISA is a registered trademark owned by Visa International Service Association.
 ※ With 1 year of warranty.
Specs.
Lens Material: Corning Gorilla Glass 3
Bezel Material: Stainless Steel
Case Material: Fiber-Reinforced Polymer With Polymer RearCover
Quick Release Bands: (18 Mm, Industry Standard)
Strap Material: Silicone
Physical Size: 40.0 X 40.0 X 12.7 mm fits wrists with a circumferenceof 110-175 mm
Touchscreen: Yes
Display Size: 1.1" (27.9 mm) diameter
Display Resolution: 218 X 218 pixels
Display Type: Sunlight-visible, Transflective memory-in-pixel(MIP)
Weight: 40g
Battery Life:
Smartwatch Mode: Up to 5 days
GPS Mode with Music: Up to 5 hours
GPS Mode without Music: Up to 16 hours
Water Rating: Swim, 5 ATM
Memory/History: 200 Hours of activity data
In the box:
vívoactive 4

Charging/data cable

Documentation